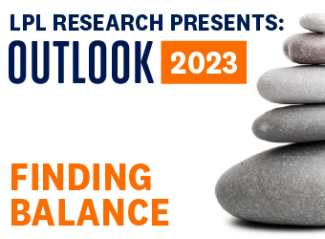 Outlook 2023: Finding Balance
From the economy, bonds, inflation, stocks, policy, geopolitics, commodities, and currencies, LPL Research takes a look ahead. Outlook 2023: Finding Balance is your guide to 2023 so you know what to expect. If 2022 was about recognizing imbalances that had built in the economy and starting to address them, we believe 2023 will be about setting ourselves up for what comes next as the economy and markets find their way back to steadier ground—even if the adjustment period continues.
Find out what to expect by reading the report here.