Independent, Full Service Wealth Management
Geared to Successful Business Owners, Professionals, and Families
Our team of valued advisors consists of
Certified Financial Planners®
Client Portfolio Managers
Insurance Professionals
401(k)/Retirement Plan Consultants
We are committed to your goals. We are devoted to your prosperity. Each one of us is here for you personally, as we focus on providing comprehensive, seamless servicing.
---
Over 30 years of guiding clients in
Planning, Managing, and Monitoring Their Wealth.
Client goals we incorporate into our servicing:
Private Clients
Building assets
Insulating against inflation and volatility
Mitigating taxes
Preserving family wealth/Estate Planning
Organizing and coordinating family financial management
Managing Risk; annuities, strategic life insurance, long-term care
Retirement distribution/income generation planning
Transitioning to salary-free living
Small Business/Corporate Clients
Employer-Sponsored Retirement Plans
Consulting on cost-effective 401(k) plans, profit sharing, cash/defined benefit and cash balance plans
Plan sponsor support
Employee education
Better positioning for tax savings through qualified retirement/401(k) plans
On-going plan expense review
Corporate/Business Planning Services
Business planning
Partnership agreements
Employment agreements
Employment contracts
Entity planning/structuring
Pre-sale Planning
Asset Protection guidance
---
As an independent office manager, Austin Frye of
Frye Financial is in the top 1%
of over 20,0001 investment advisors nationwide affiliated with

The nation's largest Investment Broker Dealer2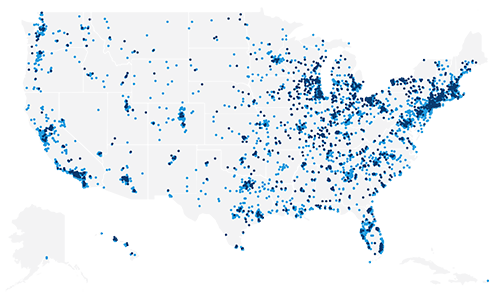 Scored #1 among clients of top 24 financial firms in:
(as reported in 2017 Cogent™ report)
Quality of Advice
Financial Stability
Satisfaction of fees and expenses
LPL ranked no. 422 on the Fortune 500 list in 20223
1As determined by membership in LPL's Chairman's Council for 2023, based on annual production, includes registered representatives and/or investment adviser representatives affiliated with LPL Financial LLC, an SEC registered broker-dealer and investment adviser. 
2As reported by Financial Planning Magazine September 2022 based on total revenues. 
3Data as of August 3, 2022. Fortune 500 ranks U.S. companies based on a review of the prior year's total revenue and factors such as profits after taxes, year-end assets and total stockholders' equity.
---
We are Certified Financial Planners®
Many people think all financial planners are "certified," but this isn't true.  Just about anyone can use the title "financial planner." Only those who have fulfilled the CFP® Board's  rigorous requirements can call themselves a CFP® professional.