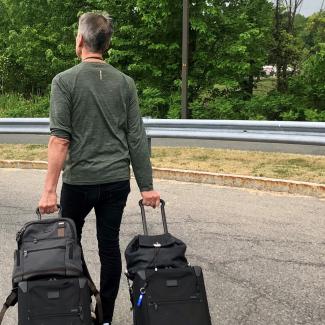 On The Road With Austin Frye
From The Desk Of Austin A. Frye...
Tales From The Road
No Rental Cars, Too Much Hand Sanitizer
Summer is here. Americans are traveling again as COVID cases tumble and vaccination rates increase. It's great to see the U.S. economy roaring back to life, but as we all are beginning to realize, you just can't press a button and restart trillion-dollar U.S. and world economies without a few hiccups.
I myself have begun to travel extensively in the USA and will now offer up a snapshot of what I am encountering in our almost post-COVID nation.
While there are now massive inventories of previously scarce bottles of hand sanitizer on supermarket shelves, Avis, the car rental company, had zero vehicles in their inventory at the Minneapolis airport for me last weekend. Apparently, Avis sold off all their inventory of vehicles during the height of the pandemic to raise capital. Now, the Avis rep tells me that they are unable to buy new replacement vehicles because there are none to be had, due to the micro-chip shortage. And just try to hail an Uber these days. They are taking three times as long to arrive and at twice the price, due to an apparent shortage of drivers. So, because it was getting late for a flight out of Fort Lauderdale, I decided to drive my own car and use the FLL valet service. However, it was (of course) shut down. I ventured over to the FLL parking garage, which was just about completely full, and had to park so far from the terminals that I needed an Uber to get back. Oh, did I already talk about the shortage of Uber drivers? I barely made my flight.
Boeing, on the other hand, unlike Avis, didn't sell-off their inventory of their infamous 737 MAX jets during the pandemic. This was not because they were so smart, but because nobody wanted them. And now, with some better news for the company; Boeing announced that they just sold off almost their entire inventory of close to one hundred 737 MAXs, due to a strong bounceback in air travel and a shortage of aircraft! Although some of you out there might not agree that Boeing unloading these troubled aircraft is such good news!
Returning to the subject of Minneapolis and labor shortages; while there, I saw a sign on the front door of a fast-food joint offering a $10,000 signing bonus for a new manager! And by the way, while I was there last week the temperature reached 95 degrees every day. Who would ever think that I would look forward to returning to South Florida from Minnesota for cooler weather!
Other Bumps Observed On The Road
I heard that Starbucks ran out of paper cups this week, so when I visited their Aventura store this morning, I asked the barista if they were out of cups. She replied that they had enough cups but were completely out of brown sugar. She must have thought I was a salesperson for fast food supplies. And speaking of Starbucks, there is a nice one in the Albany, NY airport where I have travelled to a couple of times recently. Much to my disappointment, however, I found that it is open only on days when they have enough staff to run the store.
Albany International is the closest airport to the Berkshires in western Massachusetts, home of the Tanglewood music festival. The iconic singer and Berkshires resident James Taylor just cancelled his annual Tanglewood concert because JT had sold 15,000 tickets to the event, but the local towns surrounding Tanglewood decided that they would limit capacity this summer to 9,000. Mind you, this decision came in spite of the fact that Massachusetts Governor Baker lifted all capacity limits at the end of May! Also note that James Taylor will be performing to full audiences just a few miles west in New York State and at other venues…Oh well.
Ok, one more story and then I will stop - I have many more. My grandkids (4) will be staying with us for 2 weeks in our Berkshires home this summer. We enrolled them in a Berkshire summer day camp, (Camp Half Moon), only to receive notice this week that they are being transferred to Kutcher's Sports Day Camp, because Camp Half Moon is unable to hire counselors and kitchen staff. (Anybody out there remember Kutcher's Resort in New York's Catskill mountains?)
What Does It All Mean?
Those of you who studied economics in high school or college know that capitalism is a self-correcting system and imbalances in supply and demand will eventually be corrected. Our economic system experienced a very strong punch to the gut, and it will take time to get back to full normal functioning. The talking heads on the business cable stations will continue to rant about these aforementioned imbalances, and whether inflation is "systemic" and baked in, or whether it is "transitory" and will eventually go back to normal levels. For me, I would rather focus on falling COVID numbers and how well the economy is doing, even if prices go up somewhat and these imbalances continue. Imbalances in supply create profit opportunities for new companies to create new products and new protocols to bring supply up to reach demand levels.
And, speaking of inflation, I apologize because I have one more personal story to tell. We are doing some home renovations and our contractor came back to me and asked me for additional money above our contracted price due to lumber prices having tripled. I then asked him if he would have lowered my contracted price if lumber prices had fallen. He didn't seem to get the point and my wife's glare told me she was none too amused - I reluctantly paid him.
Have A Great Summer Everyone!
For those of you in town now, the magnificent royal red poinciana trees have never been so beautiful and full of color, and the local mango trees are full of delicious fruit. For my fellow travelers, I would recommend you leave extra time to get to the airport and bring food with you, as well as your sense of humor, as the airport is crowded, and the lines are very long. For my investors, I would ask you to take a summer break from your portfolio as the market will take care of itself and we continue to monitor conditions for you. Stock prices may go up and down this summer depending upon whether the focus is on imbalances and inflation, or whether it is on the economy reopening and corporate profits increasing. However, long term investors will continue to be rewarded (if you finished the sentence on your own, you have heard me say this many times!).
Postscript
As I am writing this letter, Camp Half Moon just wrote again saying that they have found counselors and kitchen staff and they will be fully open this summer! May this be a positive omen for all of us, all of our loved ones, and for our entire nation.